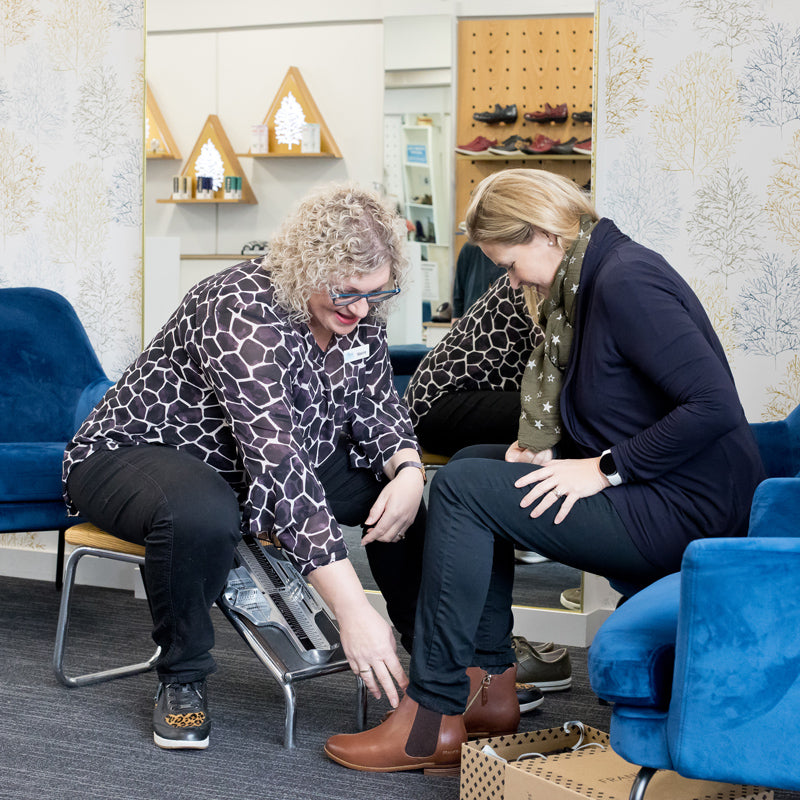 Fitting Guide
We have compiled a lot of information and some handy tips and tricks to ensure you will get the best fit. Also feel free to download our Fitting Guide pdf from the button below, so you can print it out at home.
Fitting Guide (pdf)
Fitting Tips & Tricks
Know Your Size

Here at The Shoe Room, we stock a range of premium international brands. Our styles are listed in US and EU sizes only. As such, the Size Guide is approximate, and sizes may vary from brand to brand.

Many people find that one of their feet is slightly longer than the other. Make sure you measure both feet and select a size that will accommodate your longest foot. Because the foot is three-dimensional, any measuring device can only approximate your true shoe size. Please also keep in mind that manufacturers use different lasts to construct their shoes, and sizing may vary accordingly to the maker or style.

Check out our Sizing Charts above and download our Fitting Guide to learn how to measure your feet correctly.
Check for Fit at Home

When the shoes arrive, follow these instructions to check the fit:

·   Try on a carpet so the soles don't get scuffed.

·   Wear your usual socks or stockings

·   Try both shoes on, fastening comfortably and securely 

·   Stand with your weight evenly distributed

·   Check that you can wiggle your toes, and you can't feel any pressure points or pinching of your feet
Fitting Options

Many of our shoes are designed to give maximum fit flexibility and provide an adjustable fit, either by having a removable insole or by providing an extra insole or forefoot filler. You may also have your own orthotic that will give you some fitting options.

· Look inside the shoe to see if the insoles are removable.

· Some styles are supplied with two insoles. Removing insoles creates extra depth within the shoe, and also allows you to replace with your own orthotics.

· Try the shoe on with the insoles in place. If the shoe feels too tight, remove one insole and try on again.

· Consider each foot individually

· By removing insoles, or replacing with your own orthotics, you can tailor the fit of each shoe

· Lastly, adjust any straps or laces to the most comfortable setting for each foot.

· If you have ANY concerns regarding the fitting of our footwear, please do not hesitate to contact our friendly customer service team!
Fitting Tips

Half sizes can offer a better fit for many people. However, if you are measuring a half size and this is not available it is best to go up a size. If in doubt don't hesitate to check with our friendly team as they are familiar with the shoe fitting and can give you an idea of how the shoe fits.

BEST ADVICE - Wear the right shoe for the right occasion! Whether you are climbing hills, attending a wedding, working all day standing, or going to school, you need appropriate footwear. Footwear is designed with a purpose and cannot be expected to perform correctly if worn at the wrong time or in incorrect circumstances.

There is no substitute to having your shoes correctly fitted, allowing a professional to assess the right style, size, fitting, who will observe/assess any problem that may possibly be arising, and giving you good advice – free!